Need to learn about the production flow of your well so you can figure out where to make improvements or test efficiency?
Wagner Energy Services LLC provides oil and gas operations with hydrostatic testing in Ohio, delivering verifiable data you can use to better manage your field operations.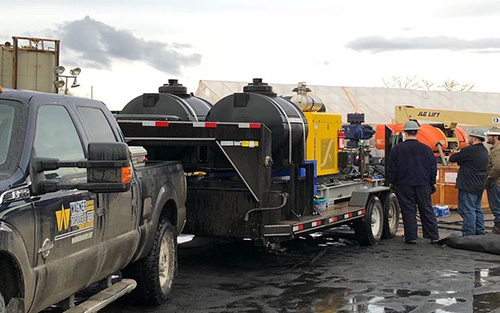 We utilize proven products and software from Hytorc and Jetstream to accurately gauge readings and provide you with viable records for your hydrostatic testing in Ohio. Our scope of hydrostatic testing and monitoring capabilities includes:
Blowout Preventer (BOP) Stacks and related valves
Casing
Choke manifold and lines
Gas hydrostatic testing
Hydrostatic testing
Kill/Mudlines
Oil hydrostatic testing
BOP testing
Frac stack testing
Iron testing
Casing tests
Flowback iron testing
Drilling rig BOP stack testing
Top Drive/Kelly Valves
Some of the equipment we use includes:
2019 – 15,000 PSI Triplex pump powered by a 325 HP John Deere Engine
2018 – 15,000 PSI Triplex pump powered by a 125 HP John Deere Engine
2017 – 15,000 PSI Triplex pump powered by a 125 HP John Deere Engine
These pumps are set to 15,000 PSI, but can be converted up to 40,000 PSI to handle all of your major projects! We also have gauges, 15k digital pressure, flow, and temperature recorders available for rental.
Production/Completion Testing
Our testing services also encompass production and completion testing, measuring flow rate, fluid properties, composition, pressure and temperature, so you have an accurate picture of live well conditions at all times. Our precision data helps you understand what's happening downhole, so you can confidently gauge the efficiency and productivity of your well. Our capabilities extend to:
Our capabilities extend to:
Backside testing
Flowback manifolds
Frac string testing
Frac trees
Frac valve/Master valve
Production trees
Sales lines
Sand traps
Pop-off valves
Hangers/plugs
Casing tests
Toe sleeve opening services
ESDs
Fabricated work
Drilling Rig BOP Stacks
7 ⅛" BOP – 13" BOPs
Workover rig BOP stack
Data-Backed Hydrostatic Testing
To maintain consistency and efficiency across your daily resource extraction operations, make sure you're calling Wagner Energy Services LLC for data-backed hydrostatic testing procedures. We'll provide you with accurate pressure readings and can provide the flange management services required to correct any anomalies or inefficiencies you're experiencing.
Reach us today at 740-525-0345 for more information or to schedule services 24/7/365.