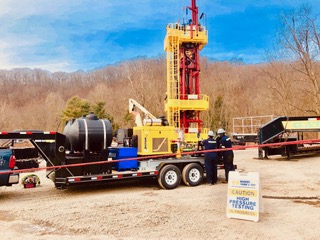 If you need a new well plumbed by experienced oilfield professionals, Wagner Energy Services LLC is the clear choice. We serve the complete needs of Ohio, Pennsylvania, & West Virginia drilling operations, through reliable oilfield plumbing services. Our experienced team will ensure your well is plumbed and grated with accuracy, resulting in streamline extraction, cleaner downhole operations, secure midstream pipe line and less work zone hazards.
Our experience with oilfield plumbing and grating services ensures we know the proper height to plumb the annulus tubing to and the right increments. In result is a secure way to obtain a visual gage on a the pressure accumulated in the annulus with minimal trip hazards and less disturbance in work area and proper flange management throughout your production piping.
Casing, tubing and valving testing

Once your well is drilled, we're available to plumb and it test it. We provide these services with focus on their integrity, to help guarantee the long-term sustainability of downhole and midstream operations. Count on us to use precision measuring and monitoring devices with high grate joints, couplings and fittings combined with our high-pressure pumps to ensure tight seals at each junction of your plumbing, valves and flanges. We record all data needed to provide a safe knowledgeable line of production.

Casing Programs

Casing programs involve incremental drilling, where the well is cased and cemented in stages. We proud ourselves with the knowledge and skills of rigging up and rigging down bop stacks and torqueing all flanges to with extreme precision and speed. We use proven ring gaskets, studs and nuts to ensure the safety of the job. With our high-pressure pumps and accurate gages, we are able to record your blow out preventers and master valves. Our experience with casing programs allows us to build and test wells quickly and securely, ensuring a high-integrity and full mind of safety to begin forward with production.

Drilling rigs & snubbing units

Testing and flange management is a crucial part in operations as far as productivity and safety here at Wagner Energy Services LLC we treat your equipment and crew with up most respect insuring all our grating is strong and secure for all your employees to keep work moving with minimum down time and our high Pressure testing, Hydraulic Bolting, Plumbing is done to spec with speed with safety as our number one goal!

Safe Efficient way to keep You and Your crew up and running while providing outstanding services for the generations to come!
Need Your Well Plumbed?
Wagner Energy Services LLC is standing by to handle the plumbing and grating of your next well. Our experience with oilfield operations makes us the premier casing contractor in Ohio. Contact our team today at 740-525-0345 to discuss the specifics of your plumbing needs.